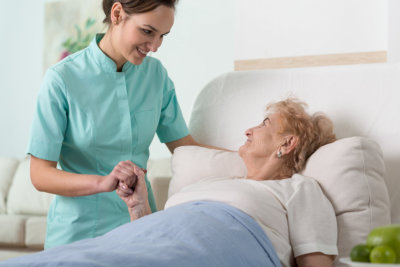 Parkinson's disease is a debilitating neurodegenerative condition that unfortunately affects the lives of many senior citizens. With symptoms such as tremor, loss of balance, and limb rigidity, many senior Parkinson's patients and their families often seek professional help for daily care. In-home care may be the best option for senior Parkinson's patients, as opposed to alternatives like relocation to a nursing home, for many reasons. Benefits include:
Customized service
Parkinson's patients require unique care to relieve the many challenges associated with this condition. Home care providers take the time to fully discuss and assess their clients' needs and customize a care plan specific to their medical condition and lifestyle.
A sense of independence
Home care allows seniors to maintain their dignity and independence, as the care providers do not interfere with the tasks the Parkinson's patient is still comfortable doing without support.
Maximum comfort
Home is where seniors are most comfortable and most likely to thrive. Abandoning their homes to move to a new place can be emotionally troubling, especially for those suffering from a medical condition like Parkinson's. Home care provides all the essential care without sacrificing the comforts of home and a sense of familiarity.
Valuable relationship with a caregiver
When seniors and their families chose the home care option, they are paired with dedicated care providers who are truly passionate about their medical wellness and happiness. This one-on-one type relationship is often not achievable in nursing homes with a large staff.
Potential cost savings
It may surprise you to learn senior home care is often just as affordable or less expensive than nursing homes while offering a full suite of professional services.
Quality family time
A home is filled with memories, and many seniors live close to their families and loved ones. Home care services do not disrupt time with family or place any limitations on visitors.
Parkinson's can affect many areas of daily life, including tasks as simple as making meals and getting dressed. Because of this, their care needs can be diverse, unique, and wide-ranging in nature. Senior Parkinson's patients and their families often elect home care for the vast scope of services that are offered daily. Home care providers not only tend to seniors' medical needs but also support everyday tasks. Home care services include:
Bathing
Dressing
Toileting
Light housekeeping
Meal preparation
Shopping
Medication monitoring
Mobility and exercise support
Day-to-day medical services
Transportation
Emotional support
Socialization
Other duties the senior may not be able to perform due to Parkinson's disease
A Parkinson's Disease diagnosis can be devastating, but for seniors who suffer from this condition, it does not have to mean uprooting their lives to move to a nursing home. Many families affected by Parkinson's can benefit from the lifestyle of home care assistance and its many perks compared to other senior care alternatives. Home care providers are trained, highly skilled, and caring professionals who serve as an ally for medical support and home services while preserving seniors' daily routines, independence, and personal freedom.
Testimonials
A top-notch company that cares about its clients. I highly recommend them. Carole and her staff are the best.
Peter Engilis
I have referred families to Carole McGary many times over the years because I know how honest and ethical she runs her business. I always get excellent feedback from our Kentucky clients about the service they receive from Preferred Private Care when they stay in Florida during the winter. Thank you for all you do! (Google Review)
Pam Jeseo
Preferred Private Care is an excellent private care company. They helped my grandma before she passed away. Thanks a lot.
Elizabeth Holmes
Ready to Start Care?
Our resource of dedicated care providers sets the industry standards. We exceed our clients' expectations with a gentle touch, understanding your needs, and offer affordable solutions to give you the comfort of care in the comfort of your home. Call us at 772-200-4245 or request assistance.