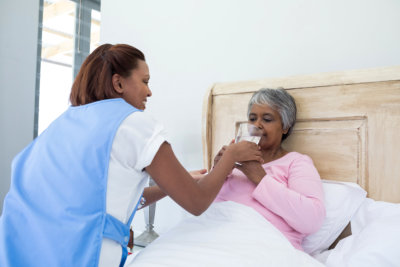 Whether you are recovering from an elective surgical procedure or an unanticipated health event that required surgical intervention, the recovery from surgery is as important as the procedure itself. When you are recovering, your body is one of your greatest allies, and your body needs uninterrupted rest to repair and regenerate.
Anyone who has spent any time in a hospital is familiar with the specific rhythm of the clinical environment. Efficient professionals must follow a strict protocol of measurement and documentation to adhere to facility standards and manage a full roster of patients and their associated range of needs. It is not personal. It is not tailored. It's a balancing act.
Health Promotion at Home
This is why the best place to recover from surgery is one's own home. At home, recuperating patients, especially seniors, can regain strength in the comfort of a familiar environment where they are in complete control of the schedule. Preferred Private Care specializes in-home care and helps after surgery, meaning that patients can return home as soon as possible and regain strength and vitality on their terms.
With a large pool of care providers available for a referral who is credentialed to State of Florida requirements, Preferred Private Care offers a host of services to facilitate exceptional post-surgical care at home. For some people, companionship and trusted assistance with routine tasks like bathing, dressing, and grooming during recuperation will be all that's needed. For others, additional help with Activities of Daily Living (ADLs) may be required, such as toileting and meal preparation. All of this, and more, is available.
Hospitals are designed to triage and sustain; home care is about health promotion and recovery. Post-surgical care at home means making progressive steps forward, returning to normal life, not standing still. Going home to a clean environment free from the possibility of cross-contamination with other patients and resuming a regular schedule is paramount to beginning this journey.
Empowered Recovery
If the patient is a night owl or a morning lark, they should be free to eat, sleep, and run errands at the time that best fits traditional daily routines. Preferred Private Care is available from 3 hours to 24 hours, making it possible for recovery from surgery to happen on your timetable. In addition to making sure that a patient gets help after surgery for in-home tasks, the care providers can transport seniors to post-surgical doctor's appointments or physical therapy.
Plus, relying on a credentialed care provider to help one recover from surgery means keeping visits from friends and family social. In addition to patient care, the care provider will assist with home care, including light housekeeping. This means that when friends, children, or grandchildren come with cards and flowers, recovering patients enjoy the confidence of knowing they look well-groomed and the house is ready for a joy-filled visit.
Post-surgical care at home
Post-surgical care at home is about empowerment and regaining strength on one's terms. It's about being surrounded by your favorite smells, photographs, and foods. It is home care that is also health care, and it is personal and tailored. It's about you.
Testimonials
A top-notch company that cares about its clients. I highly recommend them. Carole and her staff are the best.
Peter Engilis
I have referred families to Carole McGary many times over the years because I know how honest and ethical she runs her business. I always get excellent feedback from our Kentucky clients about the service they receive from Preferred Private Care when they stay in Florida during the winter. Thank you for all you do! (Google Review)
Pam Jeseo
Preferred Private Care is an excellent private care company. They helped my grandma before she passed away. Thanks a lot.
Elizabeth Holmes
Ready to Start Care?
Our resource of dedicated care providers sets the industry standards. We exceed our clients' expectations with a gentle touch, understanding your needs, and offer affordable solutions to give you the comfort of care in the comfort of your home. Call us at 772-200-4245 or request assistance.