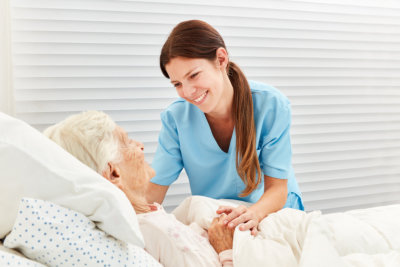 Seniors are an important part of our families and communities, providing a great sense of love, passion, and wisdom. That's why it's important to help make their transition to assisted care as easy and seamless as possible when daily tasks become increasingly difficult for them over time. More families are electing senior home care, as opposed to traditional nursing homes, to ensure their beloved senior family members are both completely cared for and comfortable. Learn more about why home care may be the best option for the senior in your life:
What is senior home care?
Home care delivers day-to-day assistance for seniors in the comfort of their home environments. It involves trained personal caregivers providing daily help with Activities of Daily Living (or ADLs) such as hygiene, meal preparation, transportation, and light housekeeping. Senior home care services are customized to the needs of each individual, taking into account any medical conditions, specialized needs, and personal preferences.
Senior care is growing in popularity as the best option for support and assistance as it allows families to avoid the uncertainty, emotions, and hassle associated with moving to a nursing facility. The home care option provides thorough, professional help without disrupting a senior's home, daily comforts, or family dynamic. Senior home care is flexible and personalized, with many services of both medical and non-medical nature available.
Home care is a different approach to senior support, as it brings the passionate expertise of a caregiver directly to seniors' homes. Often surprisingly affordable and accessible, senior home care may be the best choice for families looking to avoid nursing homes. Learn more about the benefits of senior home care:
Sense of Comfort and Familiarity
Home is where the heart is, and it is the environment where seniors are most likely to feel happy and stay active in their daily lives. Senior home care provides seniors with all the help they need, without the challenge of moving to a facility and facing the unknown of a new environment. Home caregivers adapt to their client's homes and daily routines, so there is no sacrificing comfort for care.
Assistance with Independence
It can often feel like there is a choice between watching seniors struggle in their own homes and sending them to a care facility with constant supervision. Senior home care bridges this gap by providing necessary assistance with ADLs while still offering full freedom for tasks seniors can still perform comfortably and independently. This is incredibly valuable to seniors' sense of dignity and confidence.
Personal Relationships
Seniors need to socialize and build relationships with their caregivers, which can be difficult to achieve while among the large staff of a nursing home. Home caregivers deliver personalized support, which is a result of taking the time to get to know their clients and learning how to best integrate essential care into their daily lives. Caregivers are compassionate, dedicated professionals who genuinely care about seniors' well-being and happiness.
Strong Family Dynamic
Families of seniors also benefit from senior home care, as they can have confidence in knowing their loved ones are cared for while still having all the freedom to visit and spend quality time together. Because care is provided at home, there are no restrictions on visitation or family visits – allowing for unlimited quality time together.
Customized Care
Home caregivers understand that every senior is an individual with a unique set of daily needs. Every senior home care journey being with a detailed consultation to understand what particular tasks may be most challenging and which areas of daily life could use the most support. Caregivers are trained to accommodate and help manage many medical conditions that commonly affect seniors, such as Parkinson's, dementia, and even post-surgical care.
Variety of Services
From getting out of bed in the morning to evening chores before sleep, there are a wide variety of tasks seniors may struggle with on a day-to-day basis. Senior care at home encompasses a wide variety of ADL services, including housekeeping, medication monitoring, meal preparations, errands, transportation, bathing, toileting, dressing, and social support, to cover the entirety of a senior's daily routine.
Is home care the right choice for the senior in my life?
If you want the best care for the senior in your life without sacrificing comfort or involving a physically and emotionally taxing move to a nursing home, home care may be the best option for your family. Personal care at home combines the trusted support your loved one needs with the independent and familiar lifestyle of staying home. Home care is often the right choice for families who want a smooth, natural transition to assisted care that is customized for their specific needs and home aspirations.
If you may be interested in flexible home care for the senior in your life, call the expert providers at Preferred Private Care at 772-200-4245 to learn about the extensive services available for many Florida seniors.
Testimonials
A top-notch company that cares about its clients. I highly recommend them. Carole and her staff are the best.
Peter Engilis
I have referred families to Carole McGary many times over the years because I know how honest and ethical she runs her business. I always get excellent feedback from our Kentucky clients about the service they receive from Preferred Private Care when they stay in Florida during the winter. Thank you for all you do! (Google Review)
Pam Jeseo
Preferred Private Care is an excellent private care company. They helped my grandma before she passed away. Thanks a lot.
Elizabeth Holmes
Ready to Start Care?
Our resource of dedicated care providers sets the industry standards. We exceed our clients' expectations with a gentle touch, understanding your needs, and offer affordable solutions to give you the comfort of care in the comfort of your home. Call us at 772-200-4245 or request assistance.